Meet the LaPorte Law Firm Team
Our Attorneys and Legal Specialists

Terry LaPorte has dedicated his legal career to representing individuals in Social Security Disability claims and appeals. After receiving his J.D in 1979 from Santa Clara University School of Law, he developed an expertise in Social Security Disability law. In 1982, he established the LaPorte Law Firm, a Northern California based law firm that specializes exclusively in the area of Social Security Disability law. For thirty years, Mr. LaPorte and his law firm have represented thousands of individuals in SSI and SSDI disability appeals in California and the Western States.
Mr. LaPorte attained the National Board of Legal Specialty Certification and serves on the Board of Examiners, National Board of Trial Advocacy. He is a sustaining member of the National Organization of Social Security Claimants' Representatives (NOSSCR), a provider attorney to the American Association of Retired Persons (AARP), and a seven-time Chair of the Social Security Section, Santa Clara County Bar Association. He has served as a lecturer on disability law for the Continuing Education Program of the California Bar Association and for many community, legal and support organizations. Mr. LaPorte was named a top Northern California attorney in Super Lawyer, and has received a Certificate of Recognition from the California State Assembly.
Mr. LaPorte has received numerous awards for his commitment to individuals with disabilities and others in need in our community. He was the recipient of the Santa Clara County Bar Association Pro Bono Services Award. The Santa Cruz County Trial Lawyers Association honored him with a Community Service Award. He was the recipient of the Philip J. Berelson Award for Generous Philanthropy, bestowed by the Law Foundation of Silicon Valley. The National Multiple Sclerosis Society honored him as the Chapter Programs Partner of the Year and he has been named the Social Security Attorney of the Year. Mr. LaPorte was bestowed the prestigious "Client Distinction Award" by Martindale-Hubbell and Lawyers.com. Fewer than 4% of over 900,000 attorneys listed on Martindale.com and Lawyers.com have been awarded this honor of distinction. Mr. LaPorte's dedication to the disabled has also been acknowledged by the California State Bar's Consumer Business Review, the Santa Clara County Bar Association and the Pro Bono Project of Santa Clara County.

San Jose and Salinas offices
Maria Miranda-Hammon has more than 20 years of experience as a Legal Specialist with the firm. She is an experienced and dedicated Social Security legal representative. She is deeply committed to achieving a successful outcome for every client. Maria specializes in the representation of claimants with SSI and SSA disability claims and appeals at Social Security hearing offices and district offices. Maria continues to expand her knowledge and experience through research and seminars offered by the Santa Clara County Bar Association, the National Organization of Social Security Claimants' Representatives (NOSSCR) and the Annual 9th Circuit Conference for experienced Social Security practitioners.
Maria's vast litigation support experience and knowledge of computer graphic software is used extensively within the law firm in preparing documentation presentations and conference materials. Maria's expertise includes the use of electronic filing software. With a fully integrated bicultural background, Maria has represented many monolingual Spanish speaker claimants in our San Jose, Oakland, San Francisco, Salinas and Monterey area offices.

Oakland, San Francisco and San Jose offices
Kevin LaPorte received his JD from the University of San Francisco Law School where he was also awarded an International and Comparative Law Certificate with Honors. He is admitted to practice law in California. Mr. LaPorte is a member of the National Organization of Social Security Claimants' Representatives (NOSSCR), and has received specialized training in Social Security disability law at national NOSSCR conferences.
Before joining the firm, Mr. LaPorte's practice focused on international criminal law and human rights. He served as Assistant Attorney to the International Civil Parties in the trial of former Khmer Rouge leaders in Cambodia. This trial was conducted as a joint enterprise between the United Nations and the Cambodian government, and involved the drafting of closing statements in the historical trial of former Khmer Rouge leaders, along with conducting fact gathering missions for the crime of genocide. He also worked for the United Nations in The Hague, Netherlands at the International Criminal Tribunal for the former Yugoslavia (ICTY), which involved the criminal trial of a former General accused of genocide and war crimes.
Mr. LaPorte's experience helping victims of human rights abuses inspired him to help individuals closer to home who are suffering from disabling illnesses and injuries. His background in human rights laws gives him a unique perspective in representing clients whose disabling conditions prevent them from being able to work. His practice focuses on representing clients in Northern California in the Social Security claims and appeals process.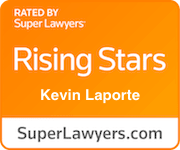 Lladira Abarca joined the LaPorte Law Firm in 2008 as Office Manager. Her prior experience includes her work as a law firm litigation and trial paralegal. As a paralegal, Lladira was recognized for her excellent performance, innovative ideas, work flow improvements, exemplary attitude, and positive morale. Lladira's expertise in handling a wide variety of legal cases enhances her contribution to the management of our clients' cases. She brings with her a background firmly rooted in commitment to the client. Lladira is also skilled in effective communication with clients and counsel.

Translator/Office Support
Sylvia Marichalar joined the firm in 2000 and has been a valuable member of our staff for over twelve years. Her extensive background in customer service and office procedures enabled her to quickly adapt to the client-centered approach of our law practice. Ms. Marichalar is fluent in both English and Spanish. She manages client files, prepares outgoing legal documents, answers our multi-line telephone system, and welcomes visitors to our office. Ms. Marichalar is one of our three Spanish translators employed by the firm and provides translation assistance to our Spanish speaking clients. Ms. Marichalar is dedicated to serving our clients with compassion and personal attention.